Vitadrops Collagen Boost Peach Flavour (8ml x 14 sachets)
Why You'll Love It
A vitamin water enhancer that is low in calories, provides instant hydration, contains vitamins and minerals and fits into your pocket
Available in various flavours (Raspberry, Lemon, Peach, Pineapple) to suit your mood and the occasion
Dissolve 1 sachet of Vitadrops in 500ml of water, stir and drink
Avoid direct sunlight and high temperature. Store at room temperature.
Volume: 8ml x 14 sachets Promotes health benefits Can be consumed daily in moderation Convenient to carry around and consume
Dissolves easily and readily in water High concentration of vitamins and minerals
Supports skin elasticity and moisture
Vitadrop Collagen Boost Peach Flavour contains 1000mg collagen, Vitamin C, D3. Collagen accounts for 70% of the dermal layer of the skin.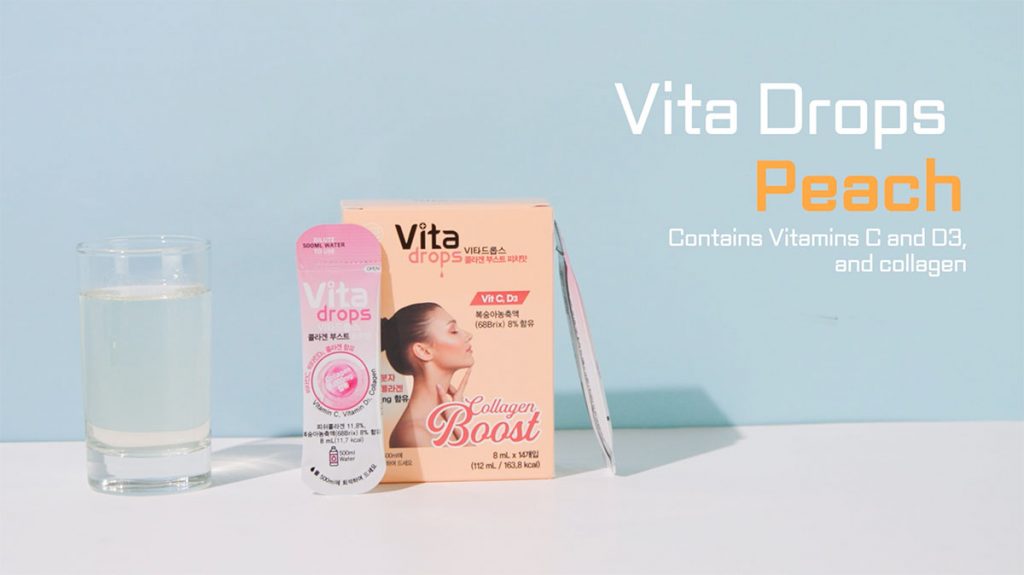 Convenient disposable sachets
Have these sachets in your pocket or purse so you can drop them anytime into your drink to refresh your day.
Different flavours for different occasions
Try out the other flavours in the series! Aqua Boost has a raspberry flavour and supports skin hydration, Sports Boost has a lemon flavour and helps alleviate post-workout muscle fatigue, Energy Boost has a pineapple flavour and gives a boost to those battling lethargy, Collagen Boost comes in a peach flavour and improves skin elasticity.